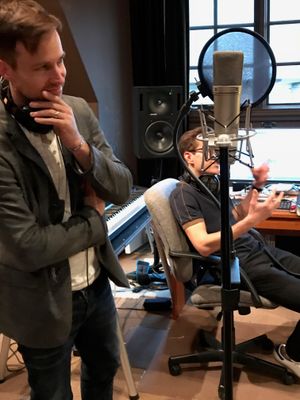 If you're going to lay down tracks with an iconic artist (a.k.a. Felix Cavaliere), you'd better have the right gear! 
So, we decided a quick trip to the famous Blackbird Audio was in order, and wow, speaking of the right gear!! Our goal: to rent the iconic U87 microphone (just had to do it). Countless producers have used the Neumann U87 to capture vocals, guitars, pianos, and all sorts of other instruments on some of the greatest songs in popular music since the 1950s. This is the same mic used to record Sam Cooke for instance, and it's loved by artists around the world for its unique warmth and unparalleled quality. Plus, it just feels insanely cool when you sing into it ;) 
Next thing you know, we're back in Felix's studio, we've got the U87 set up and we're chatting about some harmonies we're about to record.  At this point, I'm thinking, "This is WILD.  Felix is the King of blue eyed soul and truly one of my vocal heroes.  Now I'm singing harmonies with him.  Can somebody find me an Emoji of a head exploding??" no joke (you can probably see all this in my face) 
Once we are seamlessly plugged in, we set to recording the vocal harmonies for Soul Love…and as promised, here's a little taste for you... 
The documentary sizzle reel is in editing and we're on pins and needles waiting to see it and to share it with you! 
More soon, 
xox Luke