CELEBRATING 60 YEARS OF A MOTOWN LEGEND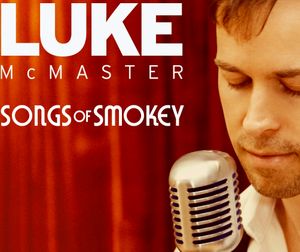 Well-known as a purveyor of blue-eyed soul, Luke McMaster sets the bar ever higher with each project he takes on. His latest album has the singer-songwriter delivering classics by a music icon who Bob Dylan deemed America's "greatest living poet" and who played a key role in transforming Motown into a pop music landmark. Songs of Smokey pays tribute to the artistry that made Smokey Robinson a soul legend - each song delivered with McMaster's signature style. 
Set for release on February 7th by Green Hill Productions, Songs of Smokey features McMaster's reimagining of Robinson's most beloved Motown hits, from his percussive twist on "Ooo Baby Baby" to his soul-baring take on "Tears of a Clown." With its caressing vocals and acoustic backing, "The Way You Do the Things You Do" is transformed into a gentle love letter, while "Cruisin'" maintains its distinctive Smokey delivery through McMaster's silky falsetto...